Après les Libertines, après Arctic Monkeys, le Royaume-Uni aurait-il trouvé ses nouveaux wunderkids, la cuvée 2007 de la relève rock'n'roll ? Formé fin 2005 par quatre jeunes Ecossais amis d'enfance qui écumaient jusque-là les pubs de Dundee en reprenant des classiques anglais, ce groupe d'une moyenne d'âge de 19 ans n'a pas tardé à faire parler de lui ?
Le parrainage sulfureux et amoureux de Doherty n'y est pas pour rien. The View a ainsi vite convaincu par quelques singles furieux (dont l'incontournable tube Wasted Little DJs) sortis à la chaîne en 2006, se forgeant parallèlement une réputation de mauvais garçons.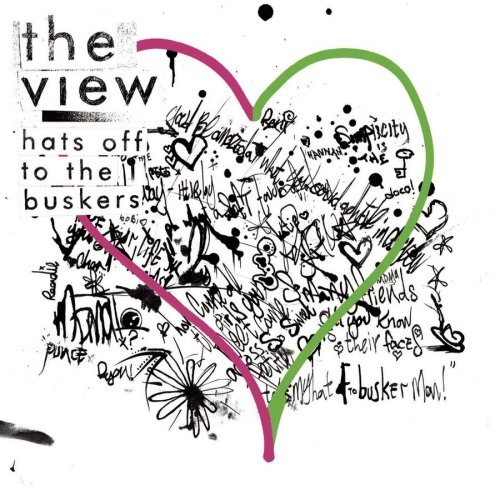 Adoubés par Alex Kapranos de Franz Ferdinand, protégés par Bobby Gillespie de Primal Scream, engagés sur la tournée de Babyshambles par le manager Alan McGee, à qui ils avaient filé en douce un CD lors d'un concert du groupe à Dundee, ils sortent aujourd'hui leur premier album. Et Hats off to the Buskers, c'est du sérieux, du costaud, pas le premier album d'un groupe à qui la promesse de succès rapide aurait tourné la tête.
Produite par Owen Morris, marionnettiste d'Oasis, cette succession de brûlots juvéniles surprend par sa variété, sa richesse mélodique, sa confiance. The View n'a pas commencé à écouter de la musique hier et ça s'entend. Les influences british, du ska aux Buzzcocks en passant par Squeeze et les La s (et les Libertines, pour être honnêtes), se retrouvent là assimilées, triturées, transcendées.
Les Ecossais ont un sens inouï du refrain, font les jolis chœurs sur quelques ballades (Face for the Radio ) et, moins rêches que leurs cousins arctiques, savent imposer de la souplesse à leurs guitares. La voix de Kyle Falconer, chanteur au débit rapide, est nature, puissante, contorsionniste. Sans gêne, elle laisse passer un magnifique accent écossais aux R bien roulés, rendant presque incompréhensibles les paroles ? sur la dure vie d'adolescent à Dundee, apparemment.
Cette spontanéité, associée à la maîtrise parfaite de l'art de la pop-song et des codes rock'n'roll, prouve que ces quatre gamins turbulents sont prêts à reprendre le flambeau de la musique qui castagne vite et bien. Les frères Gallagher ont peut-être trouvé flambe et flamboyance à leur pied.
Source : Les Inrocks : http://www.lesinrocks.com/musique/critique-album/hats-off-to-the-buskers/